Check here for recent updates from the DC IFT Section!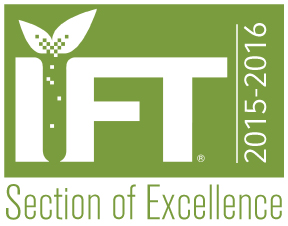 The Washington, DC Section IFT has been recognized as a 2015-2016 Section of Excellence!
Upcoming Event:
DC-IFT Social: Meet and Greet with Christie Tarantino
Thursday, October 27, 2016 from 5:30 – 7:30PM
La Jambe, 1550 7th Street NW, Washington, DC 20001
Join the DC-IFT Section for a happy hour meet and greet with IFT's CEO, Christie Tarantino.  Christie will be visiting the Section and discussing IFT's new strategic plan and future policy objectives.  Your ticket gets you two (2) drink tickets and appetizers!
La Jambe is a new stylish haven for unwinding over French wine, cocktails, cured meats, and cheese plates.  It is located next to the Shaw-Howard metro stop (green/yellow).
Looking forward to a great event! Register Here!
Past Event:
The Freedom of Information Act (FOIA) and Industry Funded Research
The Freedom of Information Act (FOIA) has been increasingly utilized by third parties and the mainstream consumer media to harvest stories (despite accurateness) behind industry-funded food science and nutrition research.  Almost all food companies and academics in the area of food science have conducted industry-funded research.  This hot topic webinar will help train both industry professionals and academics on the various components of FOIA, how to set up policies that protect both groups in the instance of a FOIA request, and how to respond to an outside FOIA request.  Expert academicians and legal counsel will engage webcast attendees in an interactive discussion and Q/A session.
Institute of Food Technologists: Food Policy Impact: Keeping abreast of the latest developments in food laws, regulations and policy initiatives is absolutely critical for being compliant and anticipating "that 'next step.'" Presented as a one-day program, IFT's Food Policy Update is an opportunity to hear from, and network with, officials from the FDA Center for Food Safety and Applied Nutrition (CFSAN) and the USDA Food Safety and Inspection Service (FSIS), along with leading attorneys and industry leaders. Topics for discussion will include GMO and natural labeling, Food Safety Modernization Act, the Dietary Guidelines and much more. To access some of the presentations given during this event, please click on the corresponding links below.
See the agenda for more details: IFT Agenda
| | | |
| --- | --- | --- |
| Presentation Title | Speaker | Link |
| CFSAN Update | Steven Musser, Deputy Director for Scientific Operations, US FDA | Musser |
| FSIS 2016 Policy Update | Daniel L. Engeljohn, Assistant Administration, OPPD, USDA FSIS | Engeljohn |
| Election Year Legislative and Regulatory Food Politics 101 | Kailee Tkacz, Director of Food & Nutrition Policy, Corn Refiners Association | Tkacz |
| Balancing "Food" Business and "Food" Policy | Mike Greene, Vice President, Government Affairs, Council for Responsible Nutrition | Greene |
| Welcome to the New Normal | Linda Eatherton, Partner/Managing Director Global Practice Development & Director, Global Food & Beverage, Ketchum | Eatherton |
| 2015 Dietary Guidelines: Implementation Issues | Kris Sollid, Director, Nutrition Communications, International Food Information Council | Sollid |
| 2020 Dietary Guidelines for Infants and Children- Opportunities and Challenges | Sylvia Poulos, Manager, Scientific and Regulatory Affairs, Infant Nutrition Council of America | Poulos |
| Food Safety Modernization Act: Implementation and Industry Preparedness | Sanjay Gummalla, Vice President, Regulatory and Technical Affairs, American Frozen Foods Institute | Gummalla |
See the agenda for more details: IFT Agenda
Sponsored by: